White Label
YOUR BRAND - POWERED BY VINDATA PRODUCTS
VinData provides select partners and commercial applications access to white label versions of the VINData Title and History Report and custome report types. Prospects include auctions, insurance providers, lending and listing applications and resellers.
Best for partners with strong, trusted brands and built-in audiences
Leverage our trusted data brands to create a halo effect for your data services
Leverage your brand's value to improve use and conversion
* White label services require disclaimer on use. Additional report and data use limitiations may apply
Let VINData Do the Heavy Lifting
The VINData Vehicle Title and History report is just simply better. More data, better reports. More flexibility and better service. Access the raw vehicle history data featured in our flagship report.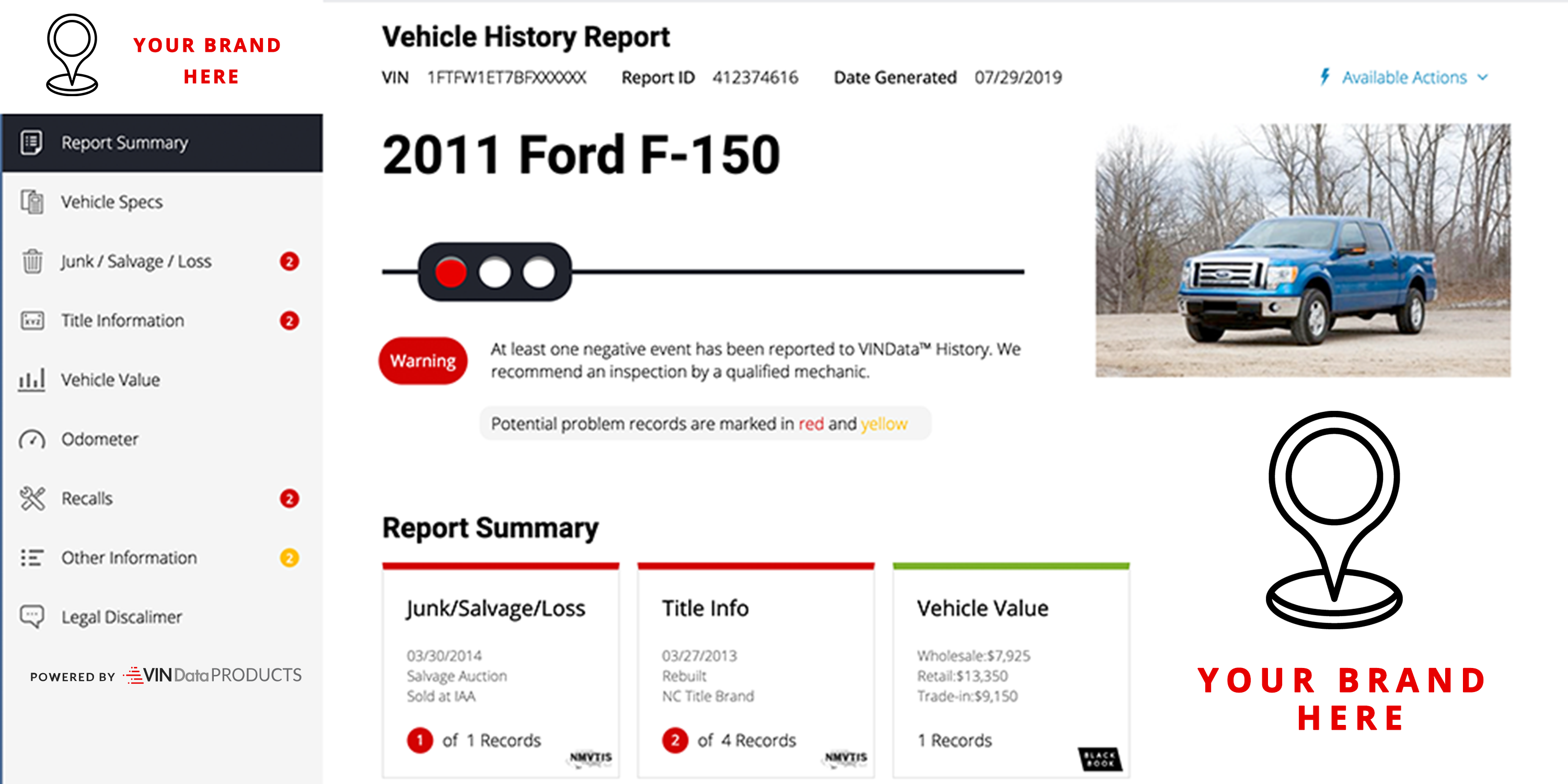 Report and API Services
Select approved commercial partners may access VINData's white label services through the API. Designed to be easily integrated into any customer solution. Generate custom reports or enhance your brand presence while providing your own vehicle remarketing services. VINData's unique reports include the most robust and trusted data streams for Vehicle Specifications, Market Value, Ownership Cost, Vehicle History and more.

VINData has assembled the most robust VIN decoder in the market to generate detailed vehicle specifications for ALL vehicle types.

VINData Market Value services include real-time market value and sales data from the most used anda trusted sources including BlackBook, Kell Blue Book and NPA Value Guides. Whether you serve consumers or dealers, our reports can be customized to access the info you desire.

VINData has Ownership Cost data allows you to include ownership cost estimations for upcoming years.
VIN Data Products LLC is an Approved NMVTIS Data Provider.
Instant VIN and real-time Vehicle History and Title Reports for autos, trucks, motorcycles, Powersports, RVs, Classic Cars and more.
Copyright © 2023 VIN Data Products LLC. All rights reserved.
All logos, trademarks and registered trademarks presented are the property of their respective owners.

This site is protected by reCAPTCHA and the Google Privacy Policy and Terms of Service apply.